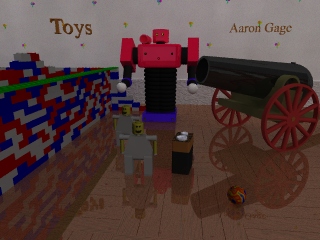 ---
Click the image above to view the animation. This animation was entered in the May/July 1998 Internet Ray-Tracing Competition for the theme of Toys. This was my third animation, in which I tried to tell a bit of a story. I mostly wanted to make it feel like it went somewhere, thus having an introduction, beginning, middle, end, and credits. It has all of these, though some of them go by pretty fast.

This animation basically speaks for itself -- I was very happy with how it turned out, though there are a couple technical errors if you know where to look. The end result is slightly less detailed than I had originally envisioned, but just doing the hardwood floor nearly exceeded the resources I had available. Time was also an issue.

Either way, this animation took third for that round of the IRTC. The link above points to the file on the IRTC servers, since I'm not inclined to host it myself at the moment.
---
Back to the previous page
All rights to the above image and animation are reserved by its creator, Aaron Gage.